2022 Heat Waves Bring Blazing Temperatures to Southern California
The winter season hasn't even ended yet and meteorologists are already concerned about heat waves in Southern California. Heat waves are periods of extremely scorching temperatures that typically only last for 2 or more days, outside the average summer temperatures. Heat waves have occurred before but climate change is making heat waves longer, hotter, more intense and more frequent. Directenergy.com states, "Heat waves form when high pressure air settles high in the air and causes hot air to sink down. The hot air sinking creates a bubble that acts like a seal and traps heat near the ground." 
Although these hot temperatures may also cause some heat-related problems in some people, the National Weather Service recommends staying hydrated and staying in air-conditioned areas out of the sun. Pets should never be left unattended in a vehicle, in the summer. When outside, wearing light-weight clothing should help reduce the risk of heat-caused illness such as heat stroke, heat cramps, exhaustion, etc…..
The hottest temperatures are expected to occur in Santa Clarita, San Gabriel and San Fernando Valleys. These temperatures are bad news in a drought-ridden, wildfire-prone state that has seen a below average amount of rain over the past year. L.A is predicted to by 2050 to have an average of 22 extreme heat days annually. The world record for the highest temperature ever recorded was in Death Valley at 134 Fahrenheit in July of 1913.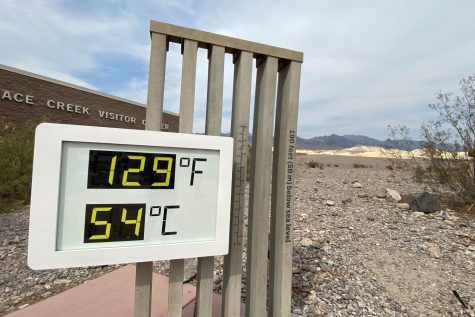 Mr. Stroh, a P.E teacher here at Rio says, "If it is 88 degrees or hotter, we begin to modify PE activities.  We do not completely stop, we just take measures to take things a little slower.  The biggest change is that the Rio 25 run is modified to a Rio Walk.  The students must walk, no running is allowed and the grade scale is adjusted.  Teachers offer more shade, water breaks and activities are shortened. The most important thing is to drink water.  Hydration should start the night before and the morning of, not just during PE.  Bringing a water bottle to class and continuing to stay hydrated during class is important too.  Students should be dressed appropriately on hot days. 
Wear a t-shirt and shorts, not a sweatshirt and sweatpants on hot days.  Lastly, listen to your body.  If you start not feeling well, let your teacher know."
Although there may be really hot temperatures this summer, that doesn't stop us from having a great summer break!