Advanced Art is Having their Art Featured at the Mall
The mall has many purposes. You can shop, eat, take a stroll, and do pretty much everything else in between. One thing that catches the eye of those who visit the mall is the Community Wall. The wall is located on the 2nd floor of the mall, between Sears and the Patios exit. The wall is dedicated to art done by talented young artists throughout Santa Clarita. Recently, the students from Rio Norte's Period 6 Advanced Art Class have been given the opportunity to have their art featured on the wall.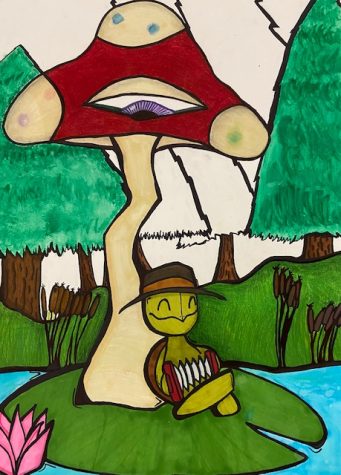 Kirstine Rich is a 7th grader in Advanced Art. When asked about how she felt about having his/her art hung up at the mall, Kirstine said that "I'm excited but really busy now since it's a really big project." Mia Low, an 8th grader who is also in Advanced art states that "This is such an honor. I am so excited for everyone to see what we have been working on these past few weeks."
If you are interested in seeing some of the amazing artwork that these students worked so hard on, the art should be up after May 2nd. Make sure to check out what our own students at Rio Norte have created next time you visit the mall!