Tyler, the Creator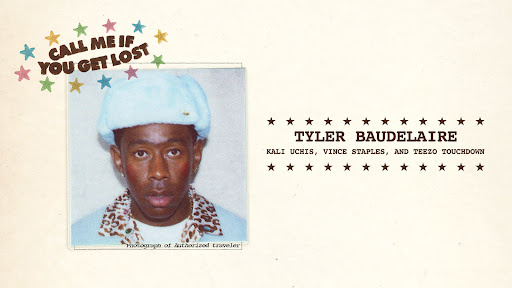 Tyler, the Creator, also known as Tyler Gregory Okonma, is a 31-year-old American Rapper. Recently, Tyler's music rocketed in popularity. He has over 4 million subscribers on Youtube and 22 million monthly listeners on Spotify.  
Tyler Gregory Okonma was born on March 6, 1991 and was raised by his mother in Ladera Heights, California. While growing up, Tyler taught himself how to play the piano. After working at Starbucks and a few other jobs for a couple of years, he decided that he wanted to pursue his dreams and start creating music. So, Tyler started making music in 2007 at the age of 16. He produced his first mixtape called "Bastard" in 2009, and his first album called Goblin in 2011. He was inspired by Q-Tip, André 3000, Chad Hugo, Pharrell Williams of the Neptunes, Kanye West, Missy Elliott, Busta Rhymes, and Hype Williams. Tyler's career took off from there, now he is in the top 100 most popular Rap & HipHop Music Artists.
Tyler's most famous song is "NEW MAGIC WAND", which is from the album IGOR. "NEW MAGIC WAND" has more than 201 million streams on Spotify. His most popular album overall is Flower Boy, which includes 14 songs. This album includes "Foreword", "Where This Flower Blooms", "Sometimes…". "See You Again", "Who Dat Boy", "Pothole", "Garden Shed", "Boredom", "I Ain't Got Time!", "911/ Mr. Lonely", "Droppin' Seeds", "November", "Glitter", and "Enjoy Right Now, Today". 
After a quick survey, students at Rio think that "Earthquake" is Tyler's best song, and IGOR is the best album. On the other hand, students think "Yonkers" is the worst song and Goblin is the worst album. Even though many may disagree, these are just opinions that some Rio students have.
If you want to listen to some of Tyler's songs, you can find his music on Youtube, Spotify, Soundcloud, Amazon Music, iHeart, Apple Music, Youtube Music, and Pandora.