6th Grade Jamboree
On March 24th, 2022, the 6th grade Jamboree was held on the Rio Norte campus. At this event were parents, teachers, and most importantly, incoming 6th graders. The jamboree lets incoming 7th graders learn more about Jr. High and take a look at certain classes. It also lets students get an idea of what electives they want to take next year. 
During the jamboree, the Advanced Drama, Advanced Choir, and Advanced Band electives performed for the incoming 7th graders. The Advanced Drama club performed a number from their upcoming musical, Matilda. Meanwhile, Advanced Choir performed Star Spangled Banner and Bring Me Little Water Sylvie. Finally, Advanced Band performed an amazing rendition of Cimarron Overture.
After these amazing performances,the 6th graders were welcome to roam throughout the school. To help the 6th graders out, there were 8 different stations spread out throughout the school telling about the different clubs, electives, and classes that you can take here at Rio. Some of the stations included a Journalism, Yearbook, and RioTV. Some of these stations also included club posters that club advisors could make to give to those incoming 7th graders. 
Some of the classrooms that were open were Science James, Ms. Ng, Mr. G, Mrs. Kratofil, Mrs. Hubbell, Mrs. Groller, Mr. Ippolito, Mr. Gonsalves, and Mr. Stroh. In each of these classrooms, students' works were hung up on display, while the teachers talked about their respective subjects and answered any questions that parents or students might have.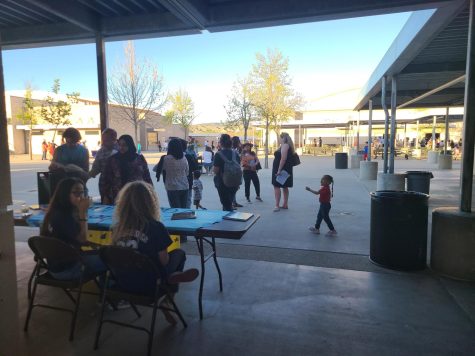 The 6th grade Jamboree is not only an amazing experience for incoming 7th graders, it is also a great experience for teachers. Science James likes "…helping the 6th grade students understand their new upcoming adventure in school as a 7th grader…" while history teacher Mrs. Kratofil thinks that "Seeing the incoming students helps me to be excited for the upcoming school year! I love to ask questions and make the families laugh so they know just how welcoming Rio Norte really is!" Meanwhile, math teacher Mrs. Mandel appreciates how "..excited the 6th graders are to be coming to junior high…" while math and seminar teacher Mrs. Groller enjoys "…participating in the Jamboree in order to help the incoming 7th graders get a feel for our school…" 
While Jr. High may seem extremely intimidating at first, events like the 6th Grade Jamboree can help ease the students into Jr. High while showing off some of the amazing talents that students at Rio Norte have. We can't wait to see these 6th graders next year and see what they accomplish!