Museum of Ice cream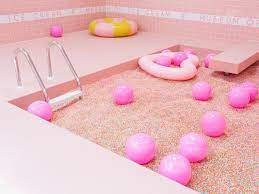 There's a place in the world that seems like a little kids dream, it's covered in sprinkles and gummy bears. The museum of Ice cream is a fun interactive exhibit, that's based off of ice cream. The museum used to be located in Los Angeles, then it moved to San Francisco, but then it closed in San Francisco.  Now it's open in New York City, Austin, Texas, Singapore, and pretty soon, Chicago 
In the Ice cream museum, in California the first room you walk into is the California room. In the California room there is a rotating menu. You receive some samples there and then go to the next room. The next room is Willy Wonka's Chocolate Factory, where you can scratch  and sniff the wallpaper. There you see a pair of swings in the middle of the room, after that you walk into an area with bananas on the ceiling.  You will find yourself in the mint room after that, you walk past mint growing, and get some samples of their mint n chip mochi. After that you walk into the Sherbet room, were there is a cotton candy claw machine and then you see the fun photo booth. 
Then, you'll walk into the Popsicle art room were there is these big statues that look like popsicles, too bad  you can't eat them. You can still take cool photos though, and once you think it can't get any sweeter you walk into the gummy bear room were there will be gummy bear statues and you'll get a scoop full of gummy bears. Once you're done with that you can go onto the Abel Bentin room were you'll see a statue of a man  with icecream cones on the walls and one on his face. Lastly, you will come to the signature room the sprinkle pool, and then the store and ice cream sandwich swing.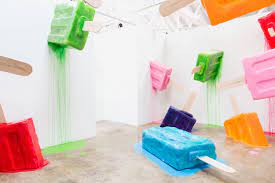 According to Trip Adviser a women named Carla said, "My teenage daughter really wanted to visit so we came on her birthday. It's all about the gram! Pretty goofy otherwise but it was a fairly enjoyable way to spend an hour."  However, another women naimed Mary stated, "The exhibits were cute and fun to take pictures. If you are concerned about social distancing, though, don't visit during the pandemic. Exhibits were very crowded and there were very few staff. None of the staff members cleaned and most of the hand sanitizer containers were empty. People did not adhere to the markers placed on the floor." The museum of Ice cream can be an awesome place to go, but maybe planning to go after  Covid can be the best option.  
7th grader, Naomi Shelofsky when asked if she would go to the museum of Ice cream said, "I would go, because I think it would be a lot of fun. I would just wear my mask the whole time, except from when I'm eating." Another 7th grader Isabelle Bett thinks differently though. She says, "I probably would not go if it is too much money. I would just go to a store and buy some ice cream instead." 
The founder of the museum of Ice cream is Maryellis Bunn, she said,  "It's always been the intention, to bring people together under a universal love or experience. Ice cream doesn't have a religion, race, gender, or borderline. It's happiness, it's creativity, it's imagination, it's nostalgia, it's memory, and it's relationships. What ice cream represents allows us to build these rich platforms and allows all these conversations to transpire.  It's beautiful." The museum of ice cream is a truly unique place. It's an incredible museum were you can feel like you're five again, and get covered in sprinkles.