Teacher Spotlight – Math James
Mrs. James, also known as Math James, teaches Math 7 and Accelerated Math 7 here at Rio Norte Junior High. Mrs. James has been teaching since she was 24 and started a week right after her wedding. She decided to become a teacher because she likes working with kids and making a difference in their lives. She has taught from 1st graders to high schoolers. Math James has been teaching at Rio Norte for about 18 years and she wanted to work here because her favorite teacher, who was her 7th-grade math teacher, was the principal at the time. Since she looked up to him, she enjoyed having him as her boss. John Krinkle, her 7th-grade math teacher and boss would say, "We need to do what's BEST for our students," and she always thinks about it when she is making decisions about her teaching.
          Math James hasn't always liked math though. She even almost failed it as a freshman in high school. After learning some study tricks and how to take notes well she got much better and started to enjoy it. If she wasn't a teacher she would be a full-time studio potter because she loves handmade things. But something she had in mind as a profession when she was in college was a coach. When she retires she would like to coach track and cross country.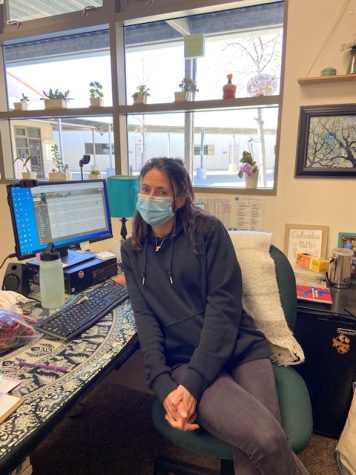 To try to make positive relationships with her students she asks them about things they are interested in, such as sports, hobbies, or asks if they have siblings. Due to her extensive amount of time teaching here, she may know students' siblings or parents. Plus, she finds people interesting, and says that "it's easy to find connections with students." She wants her students to get to know their classmates, to feel comfortable when in her class, and to have useful and valuable math skills for 8th grade! Additionally, she tries to keep her students motivated with focus treats. Math James enjoys teaching because there is never a perfect way for a strategy, making a lesson, so you can always change. Knowing this she believes it is impossible to become bored from teaching. And with the amazing Rio Norte staff it is even better.
       Some of Mrs. James' favorite things to do in her free time are running and pottery. She even sells some of it on Etsy at NJKceramics. These are just her Top 2 favorites but she also enjoys yoga, mountain biking, watching her kids, Cash and Rhett, playing sports, swimming, working in the garden, watching funny movies or TV shows with her kids, going on vacation to the beach or mountains in her Camp Trailer hanging out with Science James, another Rio teacher, and her sister-in-law, and family.