Spider-Man: No Way Home, No. 1?
     Many people enjoyed the new Marvel movie Spider-Man: No Way Home. Has it become number 1?  Abcnews.go.com states, "In the record books, 'No Way Home' is approaching the third-highest grossing film in North America, 'Avatar' ($760 million). It also added $21.1 million overseas to pass $1 billion internationally." Avatar still remains the most significant movie in the world. Many more highly anticipated movies like The Batman, Jurassic World: Dominion, and Top Gun: Maverick await in the coming months and are expected to topple No Way Home's high ratings and high views. This iconic Marvel movie was written by Erik Sommers and Chris McKenna. These  two writers have also  written other movies  such as Spider-Man: No Way Home, Ant-Man and the Wasp, Jumanji: Welcome to the Jungle, Spider-Man: Homecoming, The LEGO Batman Movie, Igor, and The Girl Next Door. Yardbarker.com states, "It has made over $1.5 billion, making it the first movie to make over a billion dollars worldwide since 'The Rise of Skywalker.' 'No Way Home' is one of the top-10 highest-grossing movies ever, and it's the highest-grossing film Sony has ever put out."
     On Yardbarker.com it also states, "When they were making the first of the Tom Holland "Spider-Man" movies, they had big plans. This sequel was already planned while "Spider-Man: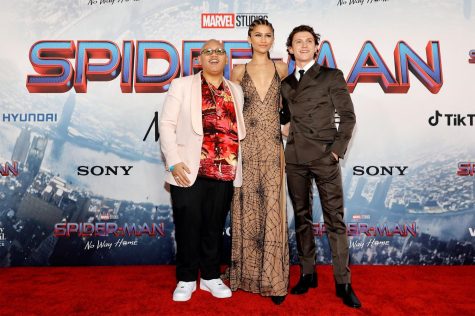 Homecoming" was still in production. Originally, though, it wasn't going to be a story that brought back villains from Spider-Man's past across the franchises. Instead, screenwriters Chris McKenna and Erik Sommers were thinking that Kraven the Hunter would be the main villain. In the end, he wasn't in the movie at all." 
     Shane Gatewood, 7th grader and Co-Captain of the Marvel club states, "My favorite part was when all the Spider-Men came in and worked together."
     Spider-Man ratings chart: (states, Boxofficemojo.com) 
Spider-Man: No Way Home.                                                  Dec 17, 2021

Spider-Man                                                                                  May 3, 2002

Spider-Man: Far From Home                                                  Jul 2, 2019

Spider-Man 2                                                                               Jun 30, 2004

Spider-Man 3                                                                              May 4, 2007

Spider-Man: Homecoming                                                      Jul 7, 2017

The Amazing Spider-Man                                                        Jul 3, 2012

The Amazing Spider-Man 2                                                    May 2, 2014

Spider-Man: Into the Spider-Verse                                        Dec 14, 2018

Spider-Man/ Men in Black II                                                  Sep 6, 2002                   
Fun Facts!
All of Doc Ock's tentacles were CGI so he was attached to a toothpick rig.

The donut shop that MJ works at was recreated and is an actual place in New York.

After filming the movie "Uncharted" Tom Holland had a shorter hair style and was told to wear a wig for the Spider-Man movie but Tom refused.

Some of the actress were told to come to the set and be in the movie without even knowing the script

Tom Holland's brother was going to be in the movie but his scene didn't make the cut.

Willem Dafoe (Green Goblin) insisted on doing his own stunts and action sequences.

Tobey Maguire was the highest paid Spider-Man