Visiting Guatemala
Are you looking for a beautiful new vacation spot? Well, Guatemala is the place for you! Guatemala has lots of beautiful scenery, several fascinating places to visit, and lots of adventure. There are tons of beautiful countries around the world but, Guatemala is one of the most captivating places around the globe to visit!
First off, where is Guatemala located? Guatemala is located in Central America bordered by Mexico in the Northwest, Honduras to the East, and the Pacific Ocean bordering its southern fragment. Guatemala has a tropical environment and is located in a tropical zone. Guatemala's environment is home to volcanoes, ancient Mayan cities, and gorgeous rainforests. You can expect high humidity and cool spring-like temperatures in coastal areas and lowlands!
There are lots of interesting and intriguing places to visit while in Guatemala, but what are some of the most beautiful and fascinating ones to visit and stay? Let's find out!
The Mayan Ruins of Tikal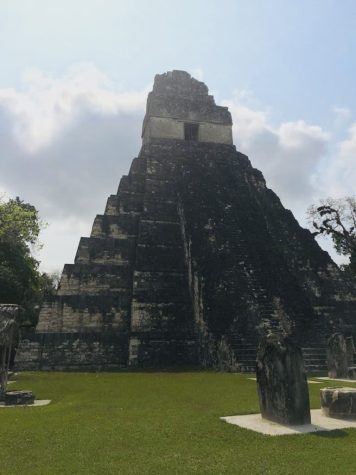 One of the most historical and captivating places to explore is Tikal. Tikal mixes all aspects of the best travel, a place full of adventure, culture, and importance located in Guatemala! Rio students have or been recently learning about empires and sacrifices, Tikal is a site full of this culture and history. It is a Mayan ruined city full of temples and historical buildings of sacrifice. With steep pyramids, temples, and burials with a thick, lush jungle surrounding it. In these temples Ah Cacao or Jasaw Chan K'awii l is buried on the site of Tikal and is known for his great big pyramid! The temple's long steep stairs leading up the mountain are closed today, but there is a wooden staircase in the back allowing you to still step foot at the top of the temple. Still to this day Tikal is available to visit, explore, and walk to the top of its pyramids!
Lívingston
Surrounded by a body of water lies Lívingston full of colors, culture, and beautiful scenery around it! Lìvingston is unlike anywhere else in Guatemala although it isn't as popular, it's still a beauty! It has beautiful lakes, rivers, streams, and relaxing beaches nearby. It is also filled with fun activities such as kayaking and paddleboarding on the breezy waters. To get to Lívingston, you must first travel by boat hence there is no road traveling straight from Guatemala. There are boats running several times a day going to other beautiful places such as Puerto Barrios giving you time to admire the beautiful scenery among the ocean and nature in and around Lívingston. A simple boat ride takes you through the stunning canal of Rio Dulce! Lívingston is a small village with significant cultural importance, and is still filled with Mayan and Garifuna cultures. Its relaxing environment, culture, and scenery is what makes Lívingston a worthwhile and such a unique place to visit on your trip to Guatemala!
So are you already planning your trip to Guatemala? Its nature and beauty is all waiting for you. Once you plan your visit be sure to check out these stunning visitation sites and all of their perks!