Cultural Day Event
On Wednesday, November 10th, Ms. Dawson, ELD Advisor, English, and Journalism Teacher hosted a Cultural Day event to celebrate the different cultures here at Rio Norte. Ms. Dawson's Period 1 "Achieve" class, assembled outside by the tables near the administration office. There were different kinds of food from all around the world. There was food from the Philippines, France, Japan, Korea, Nicaragua, Mexico, Costa Rica, El Salvador, and more! Each student had created a google slides presentation on their culture. The slides included the culture's traditional clothing, foods, holidays, and more.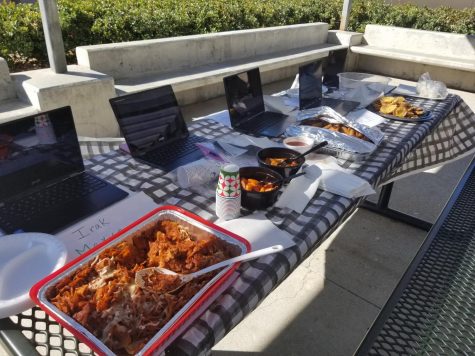 There were spicy, salty, and of course sweet dishes! I myself had tried some food and visited some other students as well! Two presentations I saw belonged to Annika Zhang and Gabby Pangan. Annika's origins were located in China, whereas Gabby's were in the Philippines.
At Gabby's station, she was serving a traditional and moist Filipino Cassava Cake. The recipe for this delectable dessert contains grated cassava, condensed milk, coconut milk, etc…. It is a popular and well-known dish in the Philippines and is mostly eaten during Merienda, a term meaning two light meals. It is also served at gatherings and especially on special occasions.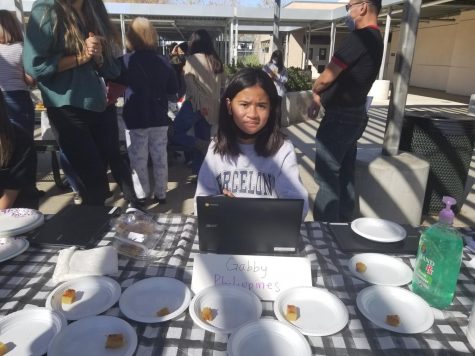 At Annika's station, she was serving a well-known food known as Dumplings! Dumplings are remade and recreated in different cultures but are most associated with Eastern Asia. They consist of dough with or without a filling. The dough can be made of flour, bread, or potato and the filling options include meat, vegetables, cheese, fish, and more!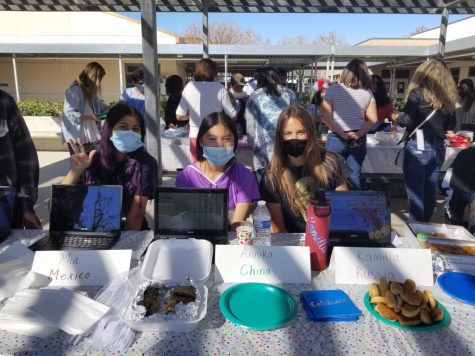 Lots of parents and Staff members attended including, office attendees, counselors, and even our administrators Mr. Ferry, Mr. Flores, and Mrs. August!
From the looks of it, everyone enjoyed the event and went back to work or home with a satisfied stomach!
Our administrators thoroughly enjoyed their time at the festive celebration.
Mr. Ferry, our principal, said that he loves, "when students have an opportunity to share about their cultures and personal traditions because it's a way of us educating ourselves and learning about what makes us all so unique". He also appreciates "all the parents that came to be a part of the celebration."
Mrs. August, the 7th grade Vice Principal said she loved, "the food because I like to eat, but I really loved to learn about everyone's cultures, and I think it is important to show all the diversity that we have here. I loved to look at the pictures of their families, the stories of how they came to be here, I don't know. I think I'm always curious about how other people's households work and function and the traditions that they have. Yeah I think it's really cool and I love to hear them talk about themselves, you can see how they pride their cultures."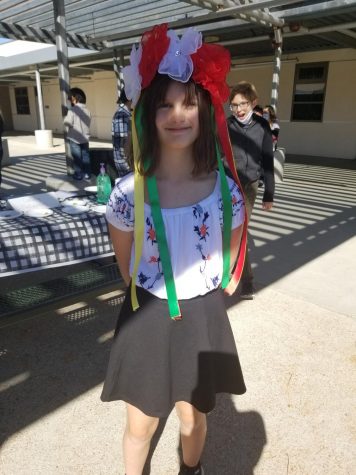 Our librarian Mr. Gonsalves thinks that this was "Fantastic! It's so great seeing where all our students come from and their cultures outside of school."
Students' parents were present that day too and I had interviewed one of them, Mrs. Salomon. She thought that it was "very great because everybody gets to exchange their culture and everybody did a nice presentation, and we get to know the food that everybody is having. Yeah, I really liked it."
This Cultural Day event was a fun way for everyone to explore the different and unique cultures around the world and to taste some tasty dishes. It was also an eye-opener on how there are so many different peoples and traditions all around us. Everyone was with their friends and family and had loads of fun!