Shang Chi and the Legend of the 10 Rings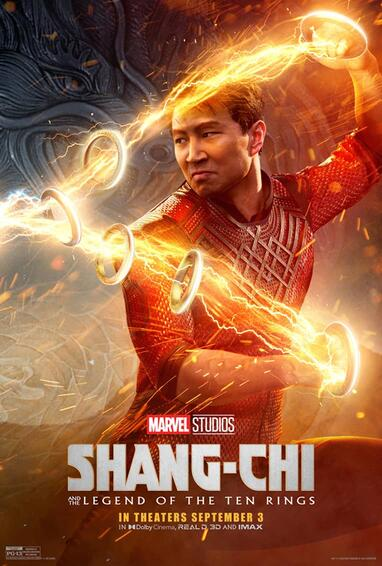 Marvel Studios has just recently dropped their new movie, Shang Chi and the Legend of the 10 Rings. Unlike most traditional movies, this movie had an Asian lead (took you long enough, Hollywood), with the cast mostly consisting of Asian actors. The cast includes famous actors like Simu Liu as Shang Chi, Awkwafina as Katy, Tony Leung Chiu-Wai as the Mandarin, and Meng'er Zhang as Xialing. With a set run time of 2h 12 min, this is set to be an important movie. Be aware, there are many spoilers in this article.
This movie is heavily tied to the afterevents of Iron Man 3, which is shown by the return of the 10 Rings organization. This sets the stage for the movie's villain, the Mandarin. The movie starts off by showing the main character, Shang Chi. He seems like your average middle-aged man. But, there is always more than meets the eye. Many years ago, he worked for a criminal organization, who is now after him. That organization, known as the 10 Rings, is being led by his father, who believes Shang is the key to getting his wife back. But, he is being tricked into opening a door, which will release monsters who will stop at nothing to eradicate humanity. Shang, his sister Xialing, and his friend Katy, have to stop him from opening that door.
This movie's purpose was not entirely about making money. There was also an aspect of representation incorporated into the film. Since the past year, there have been many Asian hate crimes, mostly which have been sparked by the start of Covid, which originated in China. Since then, many people have grown to have a negative view towards Asians. But, Marvel swooped in and released the first Asian starring movie in a while. This took a wild but appreciated take on the old Chinese martial arts movies.
This movie was a solid 8.5/10 for me. The martial arts and hands on fighting at the beginning was very good, but towards the end it was more of using the 10 Rings, which sort of threw off some of the better martial arts action. But, there was a great story involved. I feel like this movie fits pretty well into the MCU. Awkwafina, playing as Shang's friend Katy, added a lot of humor and made me genuinely laugh. Trevor Slattery, played by Ben Kingsley, was a funny throwback of Iron Man 3, but he overall did not add much to the story. No offense, Morris.
Overall, this was a great movie, but doesn't top the higher tier movies, like Avengers: Infinity War, or Avengers: Endgame. This movie is currently in the theatres, and will be added to the Disney+ collection on November 12, 2021. I'm looking forward to seeing it again, and so are many people who cannot visit the theatres.