Demon Slayer: Season Two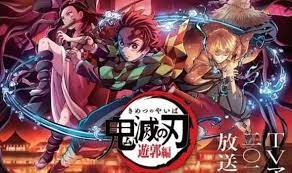 The hit anime series Demon Slayer (鬼滅の刃) is finally back for a season two. Illustrated and written by Koyoharu Gotouge, fans are dying to know what's in store for the new season. Here is what we know, and some stuff to expect. !! MAJOR SPOILER ALERT !! Here's what you should know about season one and the movie, Mugen Train. 
Season 1 takes place in the Taisho Era in Japan. Tanjiro Kamado, a young boy, left to sell coal in a nearby village, and came back to his family massacred by Demons. Filled with grief and rage, Tanjiro notices his sister Nezuko has been transformed into a demon. After this close encounter with demons, it's now his goal to turn his sister back into a human. During his journey he meets his new friends Zenitsu Agatsuma and Inosuke Hashibira. Together, they adventure through the vast world of Demon Slayer.
On April 23, 2021 The movie Mugen Train (劇場版「鬼滅の刃」 無限列車編) came out. The movie was about Tanjiro, Nezuko, Zenitsu, and Inosuke getting on a train to assist the flame hashira, Kyōjurō Rengoku, on a mission to help him hunt for a demon who has killed many innocent comrades. A little bit after getting on the train they fall into a deep sleep. Then Enmu, Rank #7 of the Twelve Kizuki, tells 4 passengers who are suffering from insomnia to go inside of the Demon Slayer's dreams, and demolish their spiritual cores. Tanjiro wakes up, and frees everyone else from this everlasting dream. Him and Inosuke rush to the front of the train to finally defeat Enmu. On the other end of the train, Rengoku, Zenitsu, and Nezuko are fighting Enmu's tentacles to protect the passengers.
Finally, the news you all have been waiting for. Season 2 of Demon Slayer is coming out October of 2021, falling into the Fall Anime category. In Japan, the episodes will be streaming every Sunday. More information will be released on September 25th, 2021. The trailer shows the new characters that will be presented to the anime. The main characters of this trailer are Uzui Tengen, Daki, Tanjiro,  Inosuke, and Zenitsu. Tengen is the sound pillar of the Hashiras, and he will play a very big role in the new season. It has already been confirmed that Funimation will be streaming the second season of Demon Slayer. However we do not know if Crunchyroll will stream it, but they do have the first season on their website and ready to watch. In conclusion I think that this season will be the best so far. I think that we can expect great things from the upcoming season.