The Lightning Thief: The Musical You Didn't Know You Needed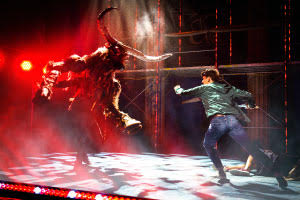 Those who have read and enjoyed the young adult novel series "Percy Jackson and the Olympians" know of the infamous Percy Jackson movies. For those who haven't read the stunning series, it follows a young teen demigod, Percy Jackson, the son of Poseidon. He adventures around modern day New York, facing many Greek monsters, titans, and even gods. But, the movies told a different story. It's possible to go on a several page rant about the movies, but to summarize, they were very inaccurate. These movies caused hard core fans of the original books to lose hope for a good adaptation. But now, they are in luck. In 2014, Rob Rokicki and Joe Tracz presented the first musical version of Percy Jackson: The Lightning Thief in a cost-free, hour-long musical program in New York City by TheaterWorks. Many fans were skeptical of how accurate this particular adaptation of the book series would be after their interesting experience with the movies, but were pleasantly surprised. 
Let's start with the writers of the marvelous script for the musical, Joe Tracz and Rob Rokicki. Joe Tracz had been writing songs since he was a mere 13 years old, while Rob Rokicki was a huge fan of Greek monsters and myths, and one of the main composers for the musical.  The original actors include Chris McCarrell as Percy Jackson, the witty and sarcastic main character, Kristin Stokes as the smart and strong headed Annabeth Chase, and George Salazar as the sweet and kind hearted Grover Underwood. Some of the still very important, but less major roles include: Parker Drown as Mr. D or Dionysus, the rude and cruel teacher, Ryan Knowles as Chiron the kind and humble leader at camp, James Hayden Rodriguez as Luke, the older brother Percy never had and [SPOILER ALERT] soon to be worst enemy, along with Carrie Compere, the loving mother of Percy. Together they were able to create an astounding adaptation of the beloved series.
It was so loved by the audience, that in 2017, TheaterWorks USA adapted it from an hour long musical to a full fledged theater production. This production was full of new songs to accommodate for the length, like "The Campfire Song," a beloved piece portraying life at camp, "My Grand Plan" representing Annabeth's motivations for the quest, and many more. Even the revamped productions didn't have the largest budget, but the creators made it work. Another way Robkicki made this musical stand out is by giving each character a signature sound to match their personalities. For example, a blast of electric guitar was played to represent Percy Jackson's rapidly changing emotions, an acoustic guitar and panpipes were present to show Grover's kind and soft nature, and Annabeth's sound was the playing of a Rhodes keyboard, creating a computer-like sound to represent her intelligence. Rokiki and Tracz also chose to include only 7 cast members for the whole show which had 47 characters in total, so each actor had one or 2 major roles, and several minor ones. This allowed viewers to use their imaginations while watching the show. Most of the cast stayed the same, except for Grover's new actor, Jorrel Ravier and Sally's new actress, Jalynn Steele.
As stated before, the musical was widely loved among fans and critics alike. As said by Charles Isherwood of Broadway news, "Thoroughly endearing family-friendly musicals." But, Charles wasn't the only one who enjoyed this adaptation. Many critics had some things to say about this particular musical. Front Row Center said, "Completely innovative and inspiring. Wall Street Journal added, "Percy Jackson Musical hits sweet spot!" Many compared this musical to lovely shows like "Dear Evan Hansen," "Hadestown," and many others. The general public also enjoys the musical, with a 70% rating and many positive reviews. A few Percy Jackson fans at our school found the musical enjoyable, but unfortunately, not many had heard of this particular version of Percy Jackson before. Furthermore, many of our staff and administrators said they had not heard of it before. Ms. August our assistant principal, and avid Percy Jackson fan said, "Not sure I would go see that one!" after we inquired about this particular adaptation.
In 2019 the show went on a brief, but sweet tour across the United States. There was going to be a second run in 2021-2022, but it was cancelled due to the pandemic. Luckily for us, it has been postponed to around 2022, so keep an eye out for future information. Looking for a way to watch this astounding musical? Well, there aren't any proper recorded versions currently out, but there is an original recording of the hour long musical, as well as a cast recording of all the songs. Enjoy!
Watch original here 
Listen to cast recording here