The Science of Barrel Racing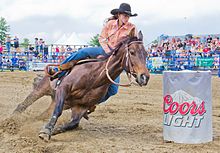 There is a lot of science behind barrel racing. If you don't know what barrel racing is, it is one of the competition sports equestrians do where they turn barrels at high speeds. It is a really fun event and if you haven't seen it I suggest you go check it out, (you can find videos on youtube https://youtu.be/yz8xlJm80mE or go to any channels or apps like RideTvGo https://www.ridetvgo.com/ ).
Barrel racing is an intense sport where the winner is determined by just thousandths of a second. No matter How skilled and talented both the rider and the horse are, one minor error can be the deciding factor whether they leave the event with a prize or not. The winner is decided by who can run the pattern with the lowest time. There are three barrels placed in a triangular pattern, the rider must ride around each one.
There is no "proper" way to do this event. It all depends on the horse. Conformation, speed, stride length, and athleticism all play a very important role in how a horse turns a barrel. There needs to be efficiency in a turn. The correct position through a turn needs to be two strides, kind of like how an athlete will three-step the high hurdles. When you get to the barrel you grab the horn with your outside hand and use the reins to turn the horse with the hand closest to the barrel.  There are two ways to run the pattern, you can run it going to the right barrel first and make one right turn and two left turns, or you can go to the left barrel first and make one left turn and two right turns.  It just depends on what lead your horse prefers the most.