Preston Loren- 7th Grader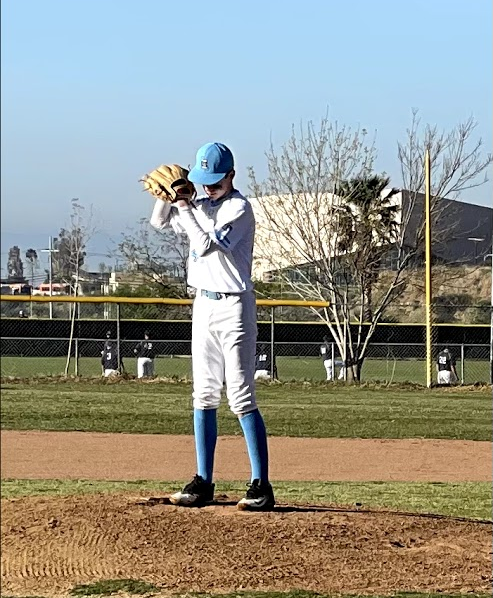 Due to the pandemic still surging and with cases on the rise every day, some athletes ask themselves how do we get back into our sport? Well thanks to the cases in California dropping a few weeks ago, many were able to start playing baseball again. Norte News got to talk to a great athlete to play on a travel baseball team, his name is Preston Loren. Preston is a 7th grader in our school and is finally back in the game. He and his baseball travel team just started to play in their tournament every weekend in Camarillo. As the lockdown eases in California and other states, him and his team are finally getting back to playing. In this Q&A we can learn more about how he got into baseball and how he plays in the pandemic.
Q: What is it like being on a travel team
?
A: It's awesome playing on a travel team because it's great to be able to play with your best friends and travel the world together, while also playing your favorite sport!
Q: Do you play right now during the pandemic, if so how do you travel?
A: Yes, I am playing right now, usually i will simply travel by driving because some games will be only an hour away, but if it's in a different state, most of the time I will fly to the tournament.
Q: Since you are on travel team, what are some of your favorite places you've been?
A: My favorite place I've been to so far has been Pigeon forge, Tennessee. I had such a great time there especially because I got to meet Cal Ripken Jr. Another place I really enjoyed was Utah. My whole team drove together in one big van and it took about 15 hours. The tournament was so much fun though!
Q: How often do you travel with your team?
A: Right now I travel every weekend to Camarillo to have one 3 hour game. But later this year we are going to start to go to a lot more tournaments. I also have three practices a week which is right here in Santa Clarita.
Q: How do you think your baseball season is affected during this pandemic?
A: Last year and the beginning of this year, it was very difficult for us because there were no games we could play and no tournaments to join. At a certain point we didn't have a field to practice on either so it was very hard for us to play. But, recently we were able to start playing games in Camarillo and we can also practice now 3 times a week. As an athlete, I can relate to those who had to wait for their sport to re-open. But as for Preston and any other baseball athlete, they can finally pursue their passion for the sport and play in many tournaments later on in the future.